Anaerobic Digester Project Development Handbook
A Handbook for Developing Anaerobic Digestion/Biogas Systems
on Farms in the United States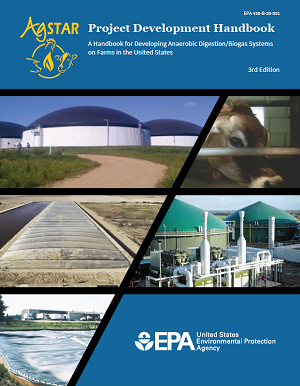 The AgSTAR Project Development Handbook is intended for agriculture and livestock producers, farm owners, developers, investors, policymakers, implementers, and anyone working in agriculture or renewable energy that is interested in AD/biogas systems as a farm manure management option. This third edition, published in 2020, provides substantial updates from previous versions, including new details about:
Co-digestion of various feedstocks on farms, as well as for AD in industrial, institutional, and commercial facilities.
Numerous options for biogas utilization, including transportation fuels and biochemicals.
Opportunities to combine AD/biogas systems and nutrient recovery for generating alternative, renewable fertilizers.
Sorry!
This document can only be viewed by Bioenergy Association members.
Please
log in
to view it:
---